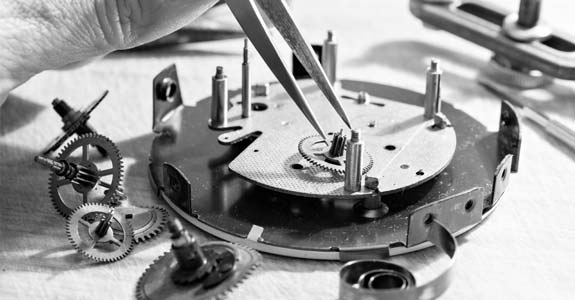 Clock Repair Services
These days, it can be difficult to find an experienced and competent clock repair technician in the greater Minot area. Fortunately, Rick's Jewelry Inc. has been proudly providing clock repairs for over 25 years, and we pride ourselves on quality work and enduring results. Whether your clock has stopped altogether, is failing to tick correctly or has a problem with one of its hands, our team of experts will be happy to take a look and have it figured out in no time. Here is an overview of what you can expect when you come to Rick's Jewelry Inc. for clock repair in Minot, ND:
Clock Repair: A clock is a complex, sensitive and delicate machine, and only at Rick's Jewelry Inc. will you find the experience, resources and work ethic necessary to provide full service clock repair. When you bring us your clock for repair services, we will treat it with the same care and precision we would use on our own possessions.
Replacement Clock Parts: When you trust Rick's Jewelry Inc. with a clock repair job, you won't have to worry about waiting days or weeks for a new part to come in. That's because we have one of the best inventories of clock repair parts in Minot, ND.
Versatility: Finally, Rick's Jewelry Inc. is happy to be able to take on any clock you need repaired, including grandfather clocks, cuckoo clocks, wall clocks, antique clocks and much more. Our knowledge and expertise is unsurpassed in the area, so you can always trust us with any clock in your home.
The whole team here at Rick's Jewelry Inc. loves a good challenge, which is why we always look forward to gaining new clock repair business. To learn more about our clock repair services, please give us a call anytime at 701-852-2566, or visit our Contact Us page. We look forward to hearing from you.